IRON-CRETE

 

#5150
Any thickness down to a feather-edge, in just 2 to 4 hours!
Just Imagine! A space age metal patch that lets you TROWEL-FORM to your specific repair needs.
RON-CRETE'S unique iron particles lie flat under the trowel, actually creating an armoured surface which will withstand 10 times the abuse of regular QUICK-SET repair products, Specially formulated, IRON-CRETE'S metallic aggregates with selected iron borings that are kiln-fired to remove impurities, is surely a handyman's dream.
IRON-CRETE'S two part system can easily be mixed and placed within minutes, yet can withstand heavy traffic in just 4 hours, developing ultimate compressive strengths of over 10,000 psi (69mpa).
IRON-CRETETM #5150 is a must for quick permanent repairs to areas where shut down time is critical. Areas repaired with IRON-CRETE'S all iron aggregates are quiet under traffic and will absorb high point loads.
IRON-CRETETM #5150 comes as a two part unit complete with catalyst and simple easy to follow instructions*
NOTE: IRON-CRETETM #5150 is not recommended in areas where the repair area will be subject to acids or other chemicals which attack cement and or iron (see instructions section)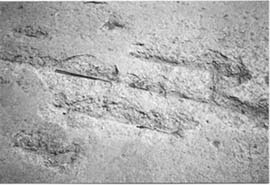 Iron CreteTM #5150 repairs areas like these permanently in just 4 hours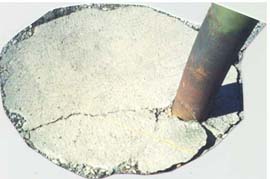 IronCreteTM#5150 has triple the bonding capacity of regular Quick-Set products.
IRON CRETE'S tensile and flexural strength compared regular Quick-Set products.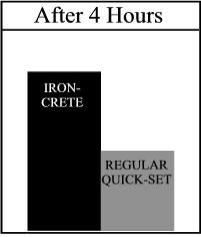 Twice as strong after only 4 hours!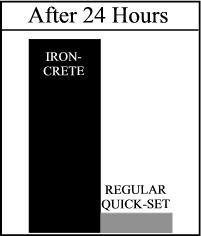 IRON-CRETE is ten times tougher and able to handle high-point loads quicker than regular Quick-Set products!
GTH Industries Ltd.
Plant/Warehouse/Sales Office
330 Marwood Drive, Unit 10,
Oshawa, Ontario, Canada L1H 8B4
Local 905-576-2411
gth@bellnet.ca