Government Approval Product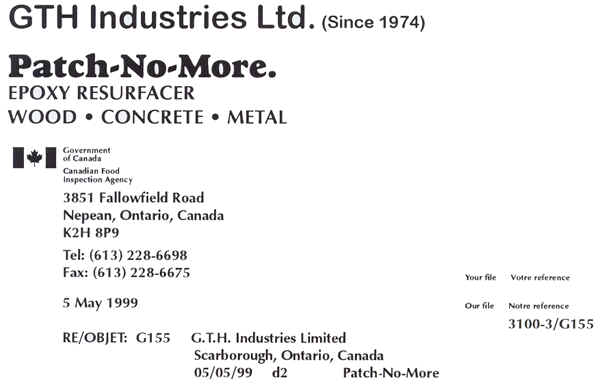 This will acknowledge your letter of 29/01/99 along with relative correspondence concerning the above coating for which acceptance is requested for use in Registered Establishments.
Upon reviewing the physical and chemical data, the coating would appear satisfactory. Therefore, no objection will be taken to the use of the above coating in Registered Establishments on floors, with the understanding that it is used in keeping with the manufacturer's recommendations for application and that the coating will provide a smooth and level, hard, impervious surface in keeping with the Canadian
Food Inspection Agency requirements.
In order to avert possible adverse organoleptic effect in foods which will be processed in areas where the coating will be used, adequate precaution's respecting ventilation should be taken to assure volatile constituents in the coating will not contaminate the foods.
This acceptance is not to be misconstrued as an endorsement for this or similar coatings and its use in Registered Establishments will depend upon its continued acceptability to all concerned.
Should any changes occur, either in the formulation of the material or intended function, then this acceptance shall be considered NULL and VOID.
Yours truly,

J'accuse réception de votre lettre datée du 29/01/99 ainsi que la correspondance connexe concernant le revêtement ci-dessus pour lequel on demande l'autorisation d'emploi dans les établissements agréés.
Évalué sur ces caractéristiques physiques et chimiques, le revêtement semble satisfaisant. Par conséquent, aucune objection sera faite à son utilisation dans des établissements agréés sur les planchers, à condition qu'il soit utilisé conformément aux recommandations d'application du fabricant et qu'il permettre d'obtenir une surface lisse, plane, dure et imperméable, conformément aux exigences de la Agence canadienne d'inspection des aliments.
Afin de prévenir la possibilité des effets organolaptiques négatifs dans les aliments préparés dans les endroits ou le revêtement sera appliqué, il faudra prendra toutes précautions afin de s'assurer que les constituants volatils du revêtement ne contaminant pas les aliments.
Cette autorisation ne constitue pas une recommandation officielle de revêtement ou d'autres produits similaires et do son utilisation dans les établissements agréés sera en fonction de son acceptabilité par toutes parties concernées.
Toute modification de la formule chimique, ou de l'utilisation prévue de produit entrainers l'ANNULATION de cette autorisation.
Nos sentiments les meilleurs.
Agent de Programmes Produits chimiques non alimentaires & intégrité des contenants Direction des politiques, de la planification et de la coordination Division des sciences