POINT OF PURCHASE manufacturer of CONCRETE REPAIR SYSTEMS used for over 40 years, since 1974.
From COAST TO COAST by Canada's leading MANUFACTURING and COMMERCIAL Industries.

CHEMICAL DAMAGE REPAIR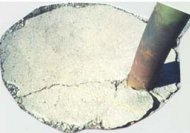 LIMITED DOWNTIME REPAIRS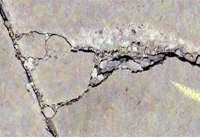 HIGH TRAFFIC DAMAGE REPAIR
Does this look like your factory or commercial floor areas?
Areas under attack from CHEMICALS or subject to HEAVY TRAFFIC!!
If so, we are the PROFESSIONALS to call for quick & easy guaranteed "DO IT YOURSELF REPAIRS"